Like other countries in the world, Christmas is the most anticipated time period at the end of year, so Christmas activities held in Vietnam always catch people's attention. This is the greatest time for your beloved ones in warm and happy atmosphere. But what should we do to enjoy it with full excitement?
Churches : Notre Dame Cathedral 
The famous destination in District 1, Ho Chi  Minh City is appreciated not only for its architecture but also spiritual belief. On Christmas Eve, the Christians in Vietnam gather outside the chancel, worshiping and listening to the speech of parish priests. Candle light and the harmony of the Church's orchestra make it an experience beyond words.. For those who stay away from their families, this will no longer make you feel lonely and isolated.

Every streets in city center
Being crazily crowded on Christmas Eve, local Vietnamese seem to be keen on heading out to the downtown area to celebrate Christmas. Families have dinner out at a nice restaurant, while young people like to hang out with their friends and have a drink, or walk around Nguyen Hue Walking street and watch some music and dance performances by street artists. Couples would go out for cinema.

List of interesting places you may want to visit:
1. Nguyen Hue Walking Street
2. Anh Sao Bridge

3. Phu My Hung

4. Saigon center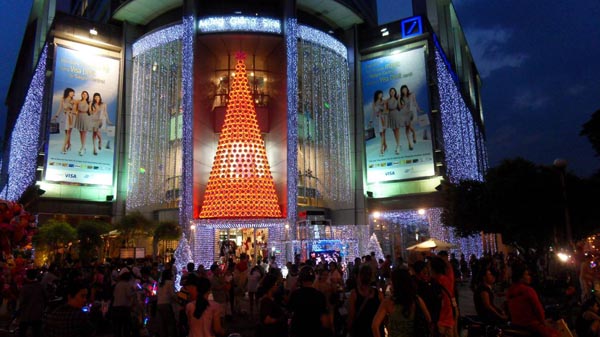 5. Chinese Town

6. Chill Sky Bar, AB Tower

7. Air 360 Sky Bar, Ben Thanh Tower

Family gatherings or friend gatherings
A Christmas Gathering in an individual's home features a sumptuous Christmas dinner with delicious holiday food, some spontaneous sharing of Christmas traditions and many shared stories. It is an emotional atmosphere. Besides, people also decorate themselves big crib scenes in front of their houses and beautiful pine trees, turning it into a Christmas area! Without going to noisy downtown, you can feel clearly that Santa is coming to your heart.
A small tips for you to join Christmas activities with Vietnamese locals is that you can wish everyone "Chuc Mung Giang Sinh" instead of "Merry Christmas", to surprise them and convey the wish more intimately.
We – at Hoozing wish you a Merry Christmas!